La domination du cinéma hollywoodien :
Durant les années 1980, sur les écrans, les superproductions règnent en maître, redonnant aux maisons de production hollywoodiennes la domination sur l'industrie cinématographique, dont elles jouissaient au cours des années 1930, 1940 ou 1950.
Steven Spielberg, qui est alors en pleine ascension, réalise Les aventuriers de l'arche perdue (révélant l'acteur Harrison Ford qui incarnera trois fois Indiana Jones) puis imagine ensuite un gentil extraterrestre, E.T., dont la silhouette fera le tour du monde. Francis Ford Coppola, lui, se plait de retourner en enfance lorsqu'il tourne The Outsiders.

| | |
| --- | --- |
| A contre courant de ces mises en scène influencées par l'esprit d'enfance, des films, qui jouent la carte de l'agressivité, tels que Rambo, Predator ou Robocop voient le jour sur les écrans, prenant pour décor les terrains de guerre ou les villes en lutte contre la criminalité. L'Amérique a encore du mal à digérer son Viêt-nam et le montre à travers le cinéma (Platoon ou Good morning Viet-nam). Toutefois, elle a ses héros, soit dans l'armée (Tom Cruise dans Top gun), soit dans la police (Bruce Willis dans Piège de cristal). | |

Un des faits les plus marquants de cette décennie, parce qu'il illustre parfaitement la reconversion réussie d'Hollywood, est l'extraordinaire succès de Batman. Ce film, adapté d'un feuilleton télévisé des années 1940, fait une des plus importantes recettes de l'histoire du cinéma hollywoodien et suscite une véritable "batmania". Il est vrai qu'avec les progrès de la technologie, Hollywood tourne de nombreux films de science fiction (Nimitz, retour en enfer, Blade runner, Terminator, Highlander). Certains sont traités avec humour, comme Retour vers le futurou SOS Fantômes.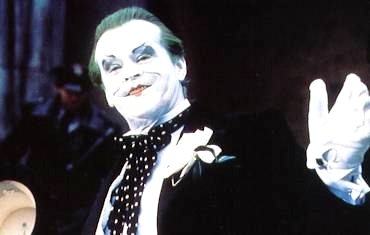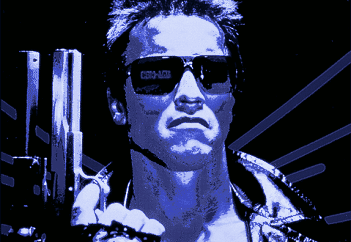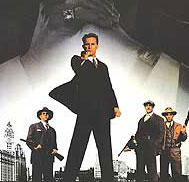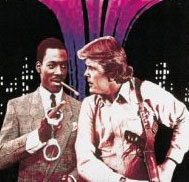 Le film policier se révèle moins noir, mais plus violent. Brian de Palma tourne Les incorruptibles avec un Kevin Costner très à l'aise dans le rôle d'Elliot Ness et Robert de Niro fort impressionnant en Al Capone. John Huston réalise L'honneur des Prizzi, non dénué d'humour. D'ailleurs, le film policier tourne souvent à la comédie (48 Heures ou L'arme fatale dont le succès conduira inévitablement à d'autres opus).
Les films musicaux fonctionnent bien également, avec la nostalgie du jazz (Cotton club de Francis Ford Coppola et Bird de Clint Eastwood dans lequel Forest Whitaker campe un superbe Charlie Parker ). John Landis accueille en guest stars une pléiade de bluesmen (dont James Brown, Cab Calloway, Ray Charles et Aretha Franklin) dans Les blues brothers. Enfin, Milos Forman fait revivre Mozart (qu'interprète Tom Hulce) dans Amadeus.
Des cinéastes et des acteurs :
Les années 80 permettent aux cinéastes de s'engager.

Roland Joffé

réalise au cours des années 80 deux films à caractère politique : La déchirure sur le drame du peuple Cambodgien martyrisé par les khmers rouges, et Mission sur la guerre contre les tribus indigènes en Amérique latine.

Robert Redford

, qui passe derrière la caméra, tourne la fable écologique Milagro.

Spike Lee

signe avec Do the right thing une chronique urbaine bouillonnant sur le thème de la ségragation.
Le cinéma français sous le modèle américain :
| | | |
| --- | --- | --- |
| | Si les années 1970 se caractérisaient par le regroupement de réalisateurs dans un cinéma d'art et d'essai issu de la nouvelle vague des années 1960, durant la décennie qui s'annonce, les salles obscures françaises, comme d'ailleurs celles des autres pays européens, vont être prises d'assaut par les superproductions américaines. Vers la fin des années 80, la projection d'oeuvres venues d'Hollywood sera pour la première fois supérieure à la projection de films nationaux. | |
Les Etats-Unis recommençant à faire rêver, plusieurs jeunes cinéastes se tournent vers les mythiques studios de Los Angeles pour prendre exemple sur des metteurs en scène tels que

Steven Spielberg

ou George Lucas. Ainsi, Jean-Jacques Beineix réalise Diva et 37,2 le matin, et

Luc Besson

remporte un succès considérable lorsqu'il présente Le grand bleu, suivi de Nikita et Subway. De même pour

Jean Jacques Annaud

qui réalise La guerre du feu, puis L'ours. Très influencés par le cinéma policier américain, Bob Swaim tourne La balance,

Alain Corneau

Le choix des armes, et

Alexandre Arcady

Le grand pardon. Quant à

Henri Verneuil

, qui avait déjà fait ses preuves dans son cinéma à l'américaine, il réalise Mille milliards de dollars ; de même pour

Georges Lautner

qui tourne Le professionnel.
Le reste des productions françaises :
A contre courant de ces mises en scène influencées par la culture américaine, d'autres réalisateurs puisent dans le patrimoine littéraire français et mettent à l'écran des oeuvres comme Manon des Sources ou Jean de Florette (réalisées par

Claude Berri

). Avant de décéder en 1984,

François Truffaut

tourne encore deux excellents films, Le dernier métro et La femme d'à coté, tous deux avec

Gérard Depardieu

qui occupe dans les années 80 une place imposante dans le cinéma français. Les cinéastes des années 60 et 70 poursuivent leurs productions ; citons

Louis Malle

(Au revoir les enfants),

Eric Rohmer

(Pauline à la plage),

Claude Chabrol

(Poulet au vinaigre),

Bertrand Tavernier

(Un dimanche à la campagne). Quant à

Claude Lelouch

, il poursuit " son " cinéma qui lui est propre, avec Les uns et les autres qui réunit une pléiade d'acteurs de toutes nationalités, puis Itinéraire d'un enfant gaté, interprété par

Jean Paul Belmondo

, où certains reconnaîtrons une parabole sur sa propre existence. Une chambre en ville de

Jacques Demy

connut un retentissant échec commercial à sa sortie en 1982, mais il mérite aujourd'hui d'être redécouvert.
Le triomphe du cinéma comique :
On notera encore deux grands succès dans le cinéma comique des années 80 : La cage aux folles de Georges Lautner avec un impayable Michel Serrault en " zaza ", et Trois hommes et un couffin tourné par Coline Serreau
Le cinéma britannique :
Le gouvernement britannique de Margret Tatcher supprimant en 1980 le soutien financier qu'il accordait jusque là aux producteurs et aux réalisateurs, les fonds versés par la chaîne de télévision Chanel four sont alors de plus en plus nécessaires pour faire survivre un cinéma britannique qui reste, malgré tout, relativement minoritaire.
Les metteurs en scène les plus connus internationalement restent ceux qui sont influencés par Hollywood (et qui produisent aux Etats-Unis), tel que

Alan Parker

(Birdy) ou

Ridley Scott

(Black Rain). De nouveaux cinéastes britanniques apparaissent toutefois, comme

David Lynch

, dont le film Elephant man, tourné en noir et blanc, connaîtra un succès planétaire. Quelques oeuvres à gros budgets, comme Gandhi présenté par Richard Attenborough, ou Les Chariots de feu réalisé par Hugh Hudson, ou encore Brazil de

Terry Gilliam

, parviennent à atteindre les grands écrans d'Amérique et d'autres pays européens.

D'autres cinéastes s'inscrivent davantage dans une démarche d'auteur, et parmi eux, nombreux sont ceux qui donnent à leurs films une dimension sociale. C'est le cas de Stephen Frears (My beautiful laundrette) ou Ken Loach (Regards et sourires).
Un des succès du cinéma britannique des années 80 est sans doute Un poisson nommé Wanda où Charles Crichton réunit, aux côté des américains Jamie Lee Curtis et Kevin Kline, l'ancienne équipe des Monty Python (John Cleese et Michael Palin en tête).
Le reste du cinéma européen :
Le cinéma italien est assez pauvre au cours de cette décennie, la plupart des cinéastes tournant à l'étranger avec des stars internationales. Toutefois le cinéma parvient à survivre grâce à plusieurs metteurs en scène comme

Federico Fellini

(La cité des femmes),

Francesco Rosi

(Chronique d'une mort annoncée),

Mauro Bolognini

(La Vénitienne) ou encore

Marco Ferreri

(Contes de la folie ordinaire).

Ornella Muti

et

Laura Antonelli

sont les stars féminines de cette décennie.

Enzo Barboni Clucher

continue à tourner quelques navets avec ses acolytes

Terence Hill

et

Bud Spencer

(Quand faut y aller, faut y aller). Quant aux frères

Taviani

, ils gagnent Hollywood pour tourner Good morning Babilonia, empruntant ainsi le chemin tracé soixante ans plus tôt par deux de leurs ancêtres devenus leurs héros, deux frères qui quittèrent l'Italie pour, étant charpentiers, participer à la construction des décors du premier grand film de l'histoire du cinéma, intitulé Intolérance et réalisé par David Griffith.
En Espagne, le gouvernement de Felipe González met en place une réforme du cinéma afin de promouvoir de nouveaux cinéastes dont le chef de file est

Pedro Almodovar

(Femmes au bord de la crise de nerfs).
En Allemagne, Rainer Werner Fassbinder tourne Lili Marleen, tandis que

Wim Wenders

réalise Les ailes du désir, avant de s'exiler lui aussi aux Etats-Unis.
Le cinéma ailleurs :