Un souffle nouveau pour le cinéma :
Au début des années 70, le septième art se relève à peine de la Nouvelle Vague et de la crise hollywoodienne. Les blocs de l'Ouest et de l'Est restent sur leur réserve, la guerre du Viêtnam s'est enlisée, le premier choc pétrolier va jeter sur le carreau des milliers de chômeurs, la technologie avance en même temps que l'homme marche enfin sur la Lune, le spectateur a besoin de vibrer devant le grand écran. Suivant toutes ces réalités, le cinéma va représenter tous les genres. Le film policier (Chinatown de

Roman Polanski

) et d'épouvante (L'exorciste de

William Friedkin

), le film musical (Cabaret de Bob Fosse) et la tragédie (Midnight express d'

Alan Parker

), le mélo (Love story d'Arthur Hiller) et la comédie dramatique (Nous nous sommes tant aimés d'

Ettore Scola

) en passant par la comédie (L'aventure, c'est l'aventure de

Claude Lelouch

), le film de guerre (Un pont trop loin de Richard Attenborough) et l'oeuvre intimiste (Zabriskie point de

Michelangelo Antonioni

).
| | | |
| --- | --- | --- |
| | Si le cinéma des années 1960 veut s'éloigner des conventions, et le fait avec l'espoir d'un avenir meilleur, il éprouve, à l'aube des années 1970, une certaine désillusion, un goût particulier pour le mal, et semble hanté par le passé (1900 de Bernardo Bertolucci). | |

Le Nouvel Hollywood :
| | |
| --- | --- |
| | La fin des années 60 a révélé l'existence d'un public jeune, exigeant, politisé par la guerre du Vietnam, souvent engagé dans les mouvements contestataires. Le moment est venu pour une nouvelle génération de prendre d'assaut la citadelle hollywoodienne. Débute alors un moment de grâce du cinéma américain, un nouvel âge d'or baptisé le Nouvel Hollywood. Une dizaine d'années euphoriques au cours desquelles de jeunes cinéastes, acteurs, producteurs, réalisent des films audacieux, pleins d'énergie, porteurs d'une poésie du monde radicalement neuve. Quelques traits communs se dégagent des films des années 70 : irrespect des règles classiques de la narration, doute sur les frontières du bien et du mal et des personnages qui les incarnent, sympathie pour les marginaux, rapport frontal au sexe et à la violence, méfiance vis-à-vis de toutes les formes d'autorité. |
Une génération montante de cinéastes cinéphiles, influencés par les nouvelles vagues des années 60, prend en main les rênes des studios, bénéficiant d'une grande liberté créatrice: ils s'appellent Francis Ford Coppola (Le parrain), Brian de Palma (Phantom of the paradise), Martin Scorsese (New York, New York), William Friedkin (French connection) et Michael Cimino (Voyage au bout de l'enfer).

| | |
| --- | --- |
| | Comme partout ailleurs dans le monde durant les années 1960, la nouvelle génération américaine dénonce les principes trop longtemps suivis et l'aliénation de l'individu par la société. |

Les cinéastes partent alors en croisade contre la toute puissance des grandes sociétés de production hollywoodienne, et veulent, voyant l'essor de la nouvelle vague française, être reconnus comme des auteurs à part entière. Ils demandent, en particulier, d'avoir droit au " final cut ", car, après avoir visionné le dernier montage de leur film, où la production s'est quelquefois permise de libres retouches, certains réalisateurs ont été sur le point de désavouer leurs propres oeuvres. Pour échapper à ces abus de pouvoir sur leurs mises en scène, plusieurs cinéastes décident de s'engager en tant que producteur ou co-producteur, acte qui les rendra plus indépendants et contribuera de ce fait à l'effondrement progressif de la suprématie des Majors Compagnies.

A Los Angeles, Hollywood, temple absolu du septième art il y a quelques années encore, perd brusquement de son rayonnement, et c'est à New-York qu'un cinéma underground prend naissance et s'épanouit. L'un des plus grands auteurs de ce nouveau courant est John Cassavetes, qui, avec entre autres Une femme sous influence, devient le maître des réalisations indépendantes, produites loin du carcan des studios, et avec un budget réduit. C'est avec les moyens du bord et la caméra sur l'épaule, qu'il tourne ses films, en les finançant avec des fonds personnels. Ce cinéaste, chef de file du mouvement underground New-yorkais, sera, un exemple pour tous les metteurs en scène qui veulent s'éloigner de la machine hollywoodienne. Ainsi, dans son sillage, figure des réalisateurs comme Martin Scorsese qui met en scène, dans Mean Streets et Taxi Driver, des personnages déchirés entre le bien et le mal. Woody Allen, quant à lui, fait l'éloge de sa ville New York dans Manhattan ou Annie Hall.
Les Major Companies hollywoodiennes réagissent en retravaillant leur système de production, dont le fonctionnement avait fait ses preuves jusqu'aux années 1960. Elles ont alors, dès les années 1970, l 'idée d'animer les écrans des salles obscures avec des superproductions, réalisées avec des budgets souvent impressionnants, servant en particulier à inonder la mise en scène d'effets spéciaux toujours plus poussés. Les scénaristes, les producteurs et les réalisateurs qui en sont à l'origine s'appuient avant tout sur le savoir-faire d'Hollywood concernant les mises en scène spectaculaires, afin de moderniser des genres quelque peu tombés en désuétude.

Ainsi, Lucas revisite la légende de la quête du Graal et, dans La guerre des étoiles, présenté en 1977, lui donne un cadre de science-fiction. Steven Spielberg, lui, renouvelle les films fantastiques en signant, dès 1971, Duel, avant de tourner Les dents de la mer puis Rencontre du troisième type. Quant à Francis Ford Coppola, il réalise Apocalypse Now, oeuvre moderniste où mise en scène et décors évoquent l'opéra. Richard Donner met en scène un super héro interplanétaire avec Superman. Ridley Scott débute sa série des monstres de l'espace avec Alien le 8ème passager dont Sigourney Weaver sera la vedette. Le film catastrophe fait encore recette quand John Guillermin tourne La tour infernale.
La " génération 70 " et le cinéma français :
Selon de nombreux critiques, les années soixante-dix auraient été complètement étouffées par la décennie précédente (celle de la Nouvelle Vague, du "cinéma moderne" et de Mai 68). En fait, pas du tout. Sans remplacer les anciens, de nouveaux cinéastes ajoutent d'autres voix et d'autres images qui viennent compléter le paysage du cinéma français.
La conséquence la plus remarquable de mai 68 est l'émergence d'un cinéma politique de grande consommation. Costa Gravas termine sa trilogie de films engagés (débutée dans la fin des années 60) avec Etat de siège. Un type de film qui permet au peuple de gauche de voir triompher ses idées au cinéma. Le cinéaste a quelque chose à dire et entend être compris. Ses films sont tournés comme un documentaire afin de ne pas laisser le spectateur deviner d'interpréter ou de recomposer en toute liberté les éléments d'un dossier : il n'y a pas de métaphore ni de symboles aux sens multiples dans ce genre là.
Si les cinéastes de la nouvelle vague ont créé un nouveau langage pour leur sensibilité exacerbée, les cinéastes " traditionnels " cherchent à l'opposé à faire passer leur vision du monde par l'anecdote, tout en respectant l'efficacité de la grande tradition hollywoodienne. C'est ainsi qu'Henri Verneuilréalise I comme Icare ou Le casse, et tourne Le serpent avec un casting international.
Tous ces films ont l'appui du public. Intéressant, intelligent, bien construit, interprété par des vedettes (

Yves Montand

,

Romy Schneider

,

Philippe Noiret

,

Michel Piccoli

) et soutenus par les médias, ce cinéma constitue le fondement d'un commerce de qualité. L'oeuvre la plus ambitieuse et la plus aboutie de cette tendance est certainement celle de

Bertrand Tavernier

qui alterne petits sujets à la française comme L'horloger de Saint-Paul, films historiques comme Que la fête commence, ou tragédie comme Le juge et l'assassin.

Claude Sautet

ne connaît le succès public que depuis qu'il analyse les états d'âmes de la moyenne et petite bourgeoisie (Les choses de la vie), imposant une image de marque désormais bien établie : Vincent, François, Paul et les autres apparait comme le prototype de ce cinéma miroir des classes moyennes qui inquiète peu et séduit beaucoup. Cet univers est mis en valeur par un habile talent de conteur capable de soutenir l'attention du spectateur avec des situations assez faibles, voire comiques (César et Rosalie).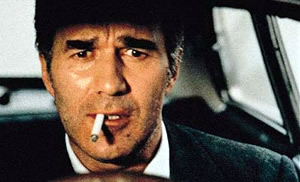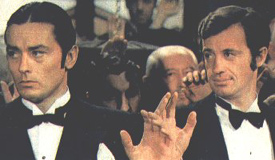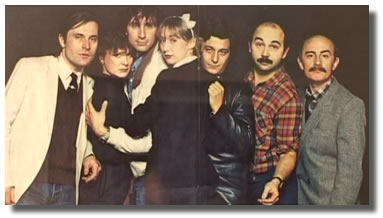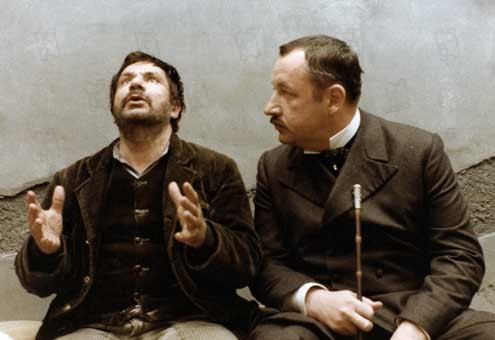 Le film policier fait encore recette, comme Police python 357 d'Alain Corneau ou Borsalino de Jacques Deray qui réunit deux monstres sacrés : Jean Paul Belmondo et Alain Delon.
Même si la tragédie est toujours présente sur les écrans, comme Le vieux fusil de Robert Enrico qui connaîtra un grand succès, le public recherche aussi le divertissement par la comédie. Georges Lautner(La valise), Robert Lamoureux (Mais où est donc passée la 7ème compagnie), Jean Yanne (Tout le monde il est beau, tout le monde il est gentil), et Yves Robert (Un éléphant, ça trompe énormément) signent des comédies franchouillardes, mais pas si innocentes qu'il n'y paraît. C'est le cas par exemple de Je te tiens, tu me tiens par la barbichette qui égratigne les médias et la naïveté des téléspectateurs.
Le cinéma dans les autres pays :
Au fur et à mesure que les années passent, le fleuve des illusions perdues commence, à abreuver vigoureusement le septième art. Milos Forman, venu de Tchécoslovaquie où en Août 1968 les chars soviétiques sont arrivés aux frontières, tourne Vol au-dessus d'un nid de coucou, dénonçant la répression pratiquée par les asiles qui, au même titre que la prison ou le goulag, broie impassiblement l'individu. Roman Polanski tournera un peu en Pologne, qui, à l'image des autres pays de l'est, est un foyer de contestation. Il fuira ensuite en Grande-Bretagne pour tourner Le Bal des vampires.
En Allemagne, le réalisateur Werner Herzog, attiré par la démesure et l'irrationnel, redonne la vie aux conquistadors espagnols dans Aguirre, la colère de dieu. Le héros, interprété par

Klaus Kinski

, est avide de pouvoir et aveuglé par une soif frénétique d'un monde nouveau et toujours plus pur.

Volker Schlöndorff

tourne Le tambour où le héros, refusant le monde cruel et surfait des adultes, décide à l'âge de trois ans de ne plus grandir. Il promènera son tambour dans le tumulte de l'histoire, sonnant toujours le trouble, frappant toujours d'un tempo impitoyable, ou bien annonçant le diable.
Malgré la désillusion qui les gagne l'un après l'autre, les grands réalisateurs italiens continuent à faire vivre le cinéma national.

Bernado Bertolucci

tourne Le Conformiste, dans lequel le héros tue son ancien professeur qui était contre le fascisme, et ce dans l'espoir de se fondre au sein d'une bourgeoisie prête, pour continuer à exister, à suivre docilement les aléas de l'histoire. Dans Une journée particulière au contraire, réalisé par

Ettore Scola

, un homosexuel (

Marcello Mastroïanni

) lutte chaque jour pour ne pas se soumettre à l'autorité mussolinienne exigeant l'ordre et l'obéissance, mais finit par être arrêté. Avec L'argent de la vieille,

Luigi Comencini

signe une allégorie sur la lutte entre le sous-prolétariat et le capitalisme.

La discipline intransigeante est aussi, dans Padre Padrone, réalisé par Paolo & Vittorio Taviani, le rêve d'un père qui s'emploie à perpétuer sur son fils l'autorité séculaire. D'autres films plongent, non dans l'obsession du passé, mais dans la fascination de la mort. Dans La grande bouffe, Marco Ferreri met en scène des suicides originaux, comme mourir d'indigestion ou mourir de plaisir. Et tandis que dans Fellini Roma, Federico Fellini précipite le monde vers sa chute, la mort, toujours elle, inspire Luccino Visconti, qui, impassiblement, la regarde dans Mort à Venise; ni majestueuse, ni tragique, seulement inéluctable. Ce film, qui montre entre autres des sentiments homosexuels ou pédérastes difficilement acceptés (et magistralement interprété par Dirk Bogarde), deviendra une oeuvre phare dans la culture Gay.
Les années 1970 sont le royaume des esprits revenus de tout, qui contemplent le monde avec ironie, cynisme ou lucidité désabusée. C'est le cas en Grande Bretagne avec Orange mécanique où

Stanley Kubrick

veut ainsi montrer une société totalitaire, conditionnée au bien, où les gens n'agissent pas bien selon leur propre éthique, mais selon la loi.

Terry Gilliam

& Terry Jones tournent en dérision la religion dans Monty Python, sacré Graal. Quant à

Ken Russel

, il adapte à l'écran Tommy des Who, dans lequel le héros va être livré au sein de la société et de ses excès : bassesse humaine (il devient un messie), manque d'humilité (son esprit étant corrompu, il se sent investi d'une mission divine).

Le cinéma japonais marque son engagement contre le tabou sexuel. C'est en 1975 que sort en effet sur les écrans L'empire des sens, à la fois racoleur pour ses scènes pornographiques et accrocheur par la dimension psychologique de ses personnages. Quant à

Akira Kurosawa

, il signe en coproduction avec l'URSS le très beau film Dersou Ouzala.